Every month I scoured the blogosphere looking for what I think are the best recipes for the month. I'm a visual person, so if its appealing to my eyes and screams try me, then its a good choice. November is a month to give thanks and appreciate what you have. I think every month is a good time to give thanks and pay it forward. We don't get to where we are in life by ourselves. Family is important as is having friends and if they love you and support you even when you make silly choices then everything else will fall into place. I want to wish all my blogosphere friends a Happy Thanksgiving. May you find yourself surrounded by family and friends and feel their warmth and love always. The holidays were meant to be shared.
November is a great month of food holidays. Peanut butter month, raisin bread month, we have doughnut day, cake day and mousse day. I've rounded up some beautiful recipes and photos by fellow food bloggers to share with you all. Enjoy!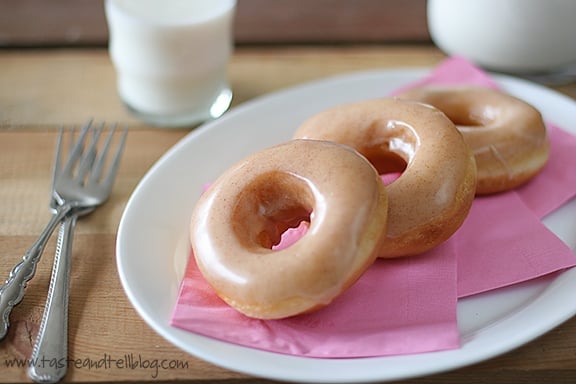 Cinnamon glazed doughnuts
Doesn't looking at these doughnuts by blogger
Taste and Tell
get you in the mood? To bake doughnuts! Look at how soft they look. It is said that a picture is worth a thousand words, is this picture talking or what? Homemade doughnuts taste very fresh, almost silky in texture, light. Make this for breakfast over the weekend and enjoy with a cup of coffee or your beverage of choice.
Vanilla cupcakes with lemon curd filling and lemon BC frosting
November 10th is National Vanilla cupcake day! Be still my heart for cupcakes are my passion These cupcakes by
Live Love Pasta
blogger are definitely on my to bake list. If you look at the frosting you can see vanilla bean specks and the taste of lemon curd..YUM!!!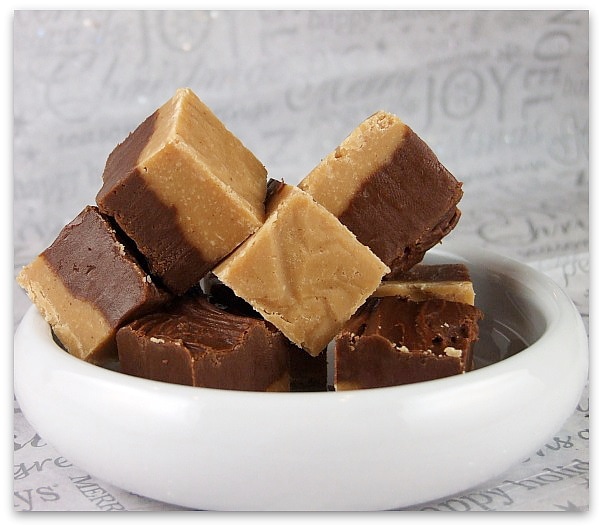 Peanut butter fudge
In my home, we do not make any dishes that contain peanut butter or tree nuts because my daughter Gabi is anaphylatic to these ingredients. But that doesn't mean I can't enjoy peanut butter outside of my home when I'm away from my little girl. Look at these peanut butter fudge candies, how could I resist one or two or three? The two flavor combo is delicious and thanks to
Recipe Girl
you can make them at home for your family, after all November 20th is peanut butter fudge day!
Mango Yogurt Parfait
I love parfaits! I like that I can just grab a glass or cup outta the fridge, take a spoon and start eating without mess or fuss. November 25th is Parfait day and these from blogger
4th Sense Cooking
are exactly what I would like to eat. Besides, anything that includes mango and yogurt as ingredients is like taking a vacation to an island paradise, a healthy one, sorta!!
Fraisier-Strawberry Bavarian Cake
One look at this Fraisier Strawberry bavarian cake and you know you're going to experience something akin to nirvana. Seriously!! Look at it, cream, sponge, strawberries, what's not to like. November 26 is Cake day and November 27 is Bavarian day so I combined the two by featuring this awesome photo and delicious recipe. Classic dessert from a great blogger,
Berry Lovely
Pumpkin Mousse
What better dessert to make to accompany your Thanksgiving day meal? Pumpkin mousse is celebrated on November 30th but why wait? Give your guests other options besides pumpkin pie or sweet potato pie (both my favs) with this creamy and velvety pumpkin mousse. The decadent dessert comes from
Spoon Fork Bacon
blogger. One of my favorite bloggers. I think I'm addicted to anything with the word bacon in it. We might even name our future puppy Bacon! Just saying.
And the finale to our November favorites roundup, is this delicous homemade raisin bread from blogger
Delishhh
. Yup, this bread sure looks delishhhcious! Especially when you bake it at home and the aroma of cinnamon hits the air and you drizzle maple syrup all over it with a dollop of butter or cream cheese. Or you eat it plain with a cup of Chai latte.
Visit this bloggers, leave them some love and make these recipes.
My apologies to my October featured bloggers, that were not featured, my computer went up in flames. Literally!